Disclaimer: it may take a few moments for the slideshow article to load…
Introduction
LeBron James is on the verge of completing another solid season in the NBA with his MVP-like numbers for the Miami Heat. However, it will be tough for him to win the award since others may be deserving as well, such as Kevin Durant or Kevin Love.
As it looks like it, the race will most likely finish between James and Durant. I'll be focusing on these two in this slideshow article. As the season ends, I think LBJ will end up winning it.
Here, I make my case why.
Miami is the Best Team in the NBA
It may not have been true last week, but after the Miami Heat's big victory over the Oklahoma City Thunder, I'm now convinced that this team is the best in the league. Even though they are 39-14, which is behind the Chicago Bulls in the NBA standings, I honestly think they are better than Chi-Town.
Actually, it's not that hard to argue that they are better than Chicago. The Bulls may have a lot of depth, but when their star player can't stay healthy this season, it's hard to say that they are the best. In fact, Miami has done well against the Bulls this season, therefore making them better obviously.
Besides, the Thunder were considered the best team in the league last week with their three-headed monster of Kevin Durant, Russell Westbrook, and James Harden. However, Durant struggled and the Thunder could not overcome Miami in a 98-93 loss. The Heat were too aggressive and too tough to handle in the playoff-like match-up.
But what this have to do with James? LeBron is the leader of this team, there's no doubt about it. He didn't come into Miami being the Robin to Dwyane Wade. Right when he came in, he showed he was the leader of this team. In the playoffs last season, he single-handheldly beat the Bulls in Eastern Conference Finals. Against the Mavericks in the NBA Finals, Chris Bosh and D-Wade were depended on James in the big moments.
James showed that against the Thunder, as he went on to have 34 points, ten assists, seven rebounds, four steals, and one block. He carried them to victory, just like he has been all season long.
His Stats Are Ridiculous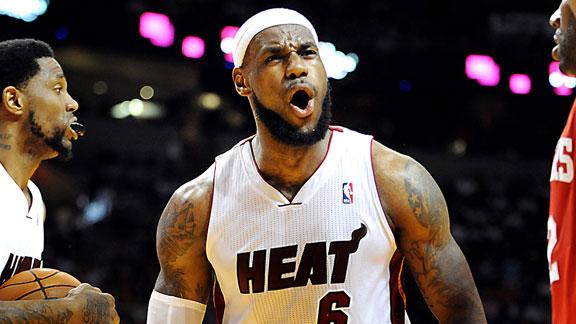 You can't overlook LeBron James' statistics this season. It's just something you never really see. Despite going to a new team with more weapons, James has still been able to put up much of the same statistics he has since his Cleveland-days.
Currently, he is averaging 27 points, eight rebounds, and 6.5 assists per game. Not only that, but James also has a Player-Efficiency-Rating of 30.72, which is the best in the NBA. In fact, the closest MVP-considered-candidate is Kevin Durant, who has a 26.26.
In fact, this season for James is one of the best PER regular seasons of all-time. The only few that are ahead are Wilt Chamberlain's legendary 1962 season when he had a 31.84 PER. Michael Jordan also reached the 31.8 mark. James actually had a PER over 32 at one point in the season as well and almost went on his way to having the best PER regular season in league history.
According to John Hollinger's (the man who created PER) assessments, when you have a PER of 30 or more, you are considered a "Runaway MVP winner." And clearly, James has shown that.
LeBron is also shooting the best he has in his career, with 54-percent from the field, which outlasts Durant's by four. James is also shooting the best he has from behind-the-arc, with 36.2-percent. This also adds to his career-high of a TS% of 60.8.
His Defense
Not only has James been punishing his opponents on the offensive end, his defense has been on point as well. He displayed his defensive skills in Wednesday's night win over OKC, stealing the ball four times. There was one play where he stole off of KD himself, as you can see in the picture above. James also had one block in the game as well.
His one block per game matches Durant, but his steals outweighs by one, as he averages two per game. He also has a defensive rating of 97 along with defensive win shares of 3.7, which outlasts Durant.
Considering James' size, he is able to guard most players in the league. Durant cannot and you can see in games time after time that his defense isn't so great. In fact, James played power forward this season, which we probably would never see coming from the Thunder forward.
Honestly, there's no reason to debate on this part. It's been stated for a while of James' defense, which will always be better than KD's.
People Need to Ignore Last Season's Struggles
As Los That Sports Blog has noted, many will judge James' MVP candidacy by his struggles from last season. Some voters will still question when he first left the Cavaliers to bolt to Miami. They will still remember his saying "Not one, not two, not three…" What they'll mostly remember is his failure in the NBA Finals against the Dallas Mavericks, where James couldn't come up in the clutch moments.
This season, James still struggles a bit in the clutch, but it doesn't mean he isn't clutch. Against the Indiana Pacers a little more than a month ago, James hit a big three-pointer with only a few seconds remaining to send the game into overtime (which Miami ended up winning).
However, for every big shot James hits, there's alwaysw going to be a struggle for him at the end, like for most athletes. For example, his pass in the All-Star game that lost it for the East. It surprises me when people point things like this out since it was an All-Star game, where nobody tries and just have fun. What got serious was against the Utah Jazz, where James passed to Udonis Haslem at the end of the game.
In my opinion, people shouldn't be bagging on him for that shot. James drew up a perfectly good play where he tricked the defense and found Haslem wide-open. Haslem missed. However, I bet you anything if that was Chris Bosh (who was out during that game), people wouldn't be complaining since he is a solid shooter from mid-range. In fact, Bosh would have made that. James did that in the NBA Finals where he found Bosh open in the corner, which ended up being the game-winner. No one complained that time.
Even when James didn't struggle, and it was the team's fault, the blame goes on him. People need to let things like this go, especially the stuff from last season, even though it still may be fresh in their mind. The jokes won't stop until he wins a championship, and all they have left to say is something about his hairline.
However, others have struggled as well. Take a look at KD last night, for example. He airballed what looked like the game-tying three. It was a good look, but no one complained. In fact, Durant struggled for much of the game, though the stats may differ. Same went for James against the Jazz. He had solid stats and had a good look when he passed it to Haslem–but this time everyone complained.
Haters gonna hate.
He's Not Just a Shooter
Kevin Durant is known for one thing: he's a shooter. However Durant does have a lot of other skills, such as rebounding, which he averages about eight per game. However, Durant is more of a shooting-focused guy. You can shut his game down easily, like what happened last night.
As for James, he's finding more ways to do things. James has learned how to score in the post now, and is continuing to get better. As for Durant…not so much. Judging from the game last night, Durant tried doing a post-up-fadeaway, which didn't turn out so well as it bounced off the top of the backboard.
LeBron also excels much more in passing, as he averages nearly four more assists per game than Durant. However, Durant has a point guard to follow with Russell Westbrook. KD isn't an all-around small forward like James is.
As the point forward LeBron is, he facilitates, shoots, and rebounds the ball far better than Durant can. LeBron never really has to shoot. He had many instances where he could've last night, but it could have gone bad. Instead, he attacked the lane and made tons of his shots in the paint.
It changes everything if you look in the picture below, which displays the stats from last night's game:
James outplayed Durant, and the stats don't line. In fact, James' performance is one of the most rare occasions for his career, let alone for any player in league history.
Conclusion: LeBron is Simply the Better Player
LeBron James is simply the better player. Many voters feel picking Durant would be more of a feel-good story, but there's absolutely no way James should not win. All of the numbers don't lie. Everything James has accomplished this season is better than Durant.
MVP is about who is the best player in the league and who did the most for their team to make it so far. James had done that. There's been countless times where James lifted the Heat to victory when Dwyane Wade and/or Chris Bosh had an awful shooting performance.
Therefore, I think James should be named the Most Valuable Player of the 2012 season. Last night's performance proved it all.
What do you think? Who do you think should be MVP?
You May Also Like