Disclaimer: Slideshow articles may take a few moments to load…
Introduction
The NBA regular season is almost coming to an end, so now it's time for picking the awards. Here are my picks for the following awards: Sixth man, Coach, Executive, ROY, Most Improved, Defensive, and Most Valuable.
Who will win?
Here are my picks…
Sixth Man of the Year: James Harden
It couldn't have been anyone else. James Harden has been fantastic for the Oklahoma City Thunder off the bench, helping them become the best team in the Western Conference along with Kevin Durant and Russell Westbrook.
Harden basically plays like he should be starting, logging in 32 minutes per game. Harden can come up big when he wants to, scoring 20 points or 40 when he has to.
So far, overall, he has been averaging 17 points, about four assists, and four rebounds per game this season. He's not your average player coming off the bench and is probably one of the best Sixth Man players we've seen in a while.
He's easily the favorite in this one.
Runner-Ups: Jason Terry, O.J. Mayo, Lou Williams, Al Harrington, Mo Williams
Coach of the Year: Frank Vogel
Many could have said other coaches, like Tom Thibodeau or Gregg Popovich. However, I think it should have to be Frank Vogel of the Indiana Pacers.
Vogel helped turn around the struggling Pacers before All-Star break last season as interim head coach, helping get into the playoffs at a 37-45 record. With that, Indiana would lose in the first round to Chicago Bulls in probably one of the most even 4-1 losses ever.
This season, Vogel has changed things big time, already having more wins than last year in a shortened, 66-game schedule. Indiana currently stands at 42-22 and are third in the Eastern Conference. I haven't seen them at this stage since the Reggie Miller era.
Vogel definitely is deserving of the credit for what he has done this year, especially for a team without a true superstar player.
Runner-Ups: Thibodeau, Popovich, Scott Brooks
Executive of the Year: Neil Olshey
Neil Olshey pulled off one of the biggest moves in NBA history as the unlikely Los Angeles Clippers were able to land Chris Paul on their team to team up with Blake Griffin and company.
With that, the Clippers have turned from a laughingstock franchise into a legitimate contender for a championship. Despite sending some prized, young players like Eric Gordon and Al-Farouq Aminu, the dividends have paid off.
And with that, Los Angeles stands at fourth place in the tough Western Conference, looking to make a big run in the playoffs.
It's all thanks to Olshey.
Runner-Ups: Larry Bird, Chris Wallace, R.C. Buford
Rookie of the Year: Kyrie Irving
The Cleveland Cavaliers came off a terrible 2011 campaign, finishing with the worst record in the league with LeBron James' departure. However, things are quickly turning around thanks to their No. 1 overall pick, Kyrie Irving.
The point guard out of Duke has been averaging about 19 points, six assists, and four rebounds per game on the season. Despite the Cavs being 21-41, they have improved much over last season and they continue to grow as a young squad.
And Irving is the beginning of it.
Runner-Ups: Ricky Rubio, Kenneth Faried, Isaiah Thomas
Most Improved Player: Andrew Bynum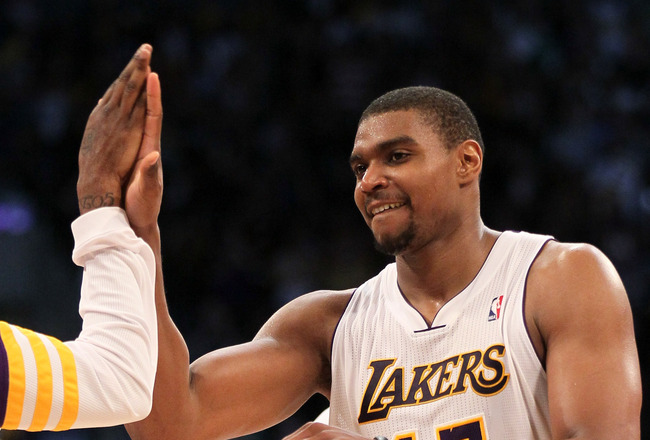 Andrew Bynum has struggled with injuries for his career, which led to many rumors of him being traded. However, the 24-year-old has finally found a way to stay healthy this year, and with that, his impact has been huge for this team.
Bynum has been averaging 19 points and 12 rebounds per game so far this season and is well-deserving of this year's MIP award, being one of the big reasons this team is third in the Western Conference.
Last week, his 30-rebound performance over the San Antonio Spurs should be the reason that locks up the award for him. He's truly just been a monster this year.
Runner-Ups: Jeremy Lin, Ryan Anderson, Goran Dragic
Defensive Player of the Year: Tyson Chandler
Most people would still be picking Dwight Howard. However, his season-ending injury now may end his streak of DPOY awards. Now there can be a new winner, and in my opinion, that person is Tyson Chandler.
He was brought in by the New York Knicks to help on the boards and help on defense, since Amare Stoudemire and Carmelo Anthony weren't really good at it anyways. So far, Chandler has proven himself with ten boards and about 1.5 blocks per game this season. Adding to that, he also averaging 11.3 points per game.
With the help of the veteran big man, the Knicks are now looking to lock up the seventh or sixth seed for the playoffs.
Runner-Ups: Howard, Serge Ibaka, LeBron James
MVP: LeBron James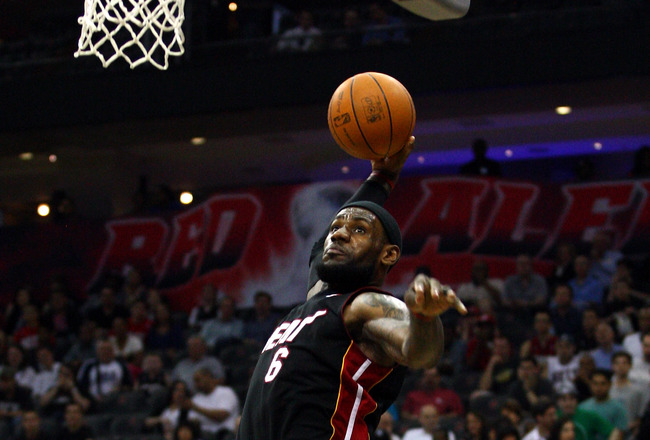 A lot of people love the decision of picking Kevin Durant, but in my opinion, it just has to be LeBron James. James is easily the better player than Durant and has been having the better season, averaging 27 points, eight rebounds, and six assists per game. His PER is off the charts, leading the league with 30.73.
James has also proven he's better than Durant in his last meeting, getting some steals and playing strong defense on him, a skill Durant does not have. James has also shown he is more than a shooter, having a better post-up game as well.
James has also shown a lot of clutch now, including his monster performance in the fourth quarter against the New Jersey Nets and some more in the Heat's recent win over the Chicago Bulls, showing they're the best team in the league despite being second in the Eastern Conference as I type this.
Simply put it, James is this year's MVP, making it his third if it comes true.
Runner-Ups: Durant, Kevin Love, Chris Paul
Also read this article on why LeBron should win over KD.
Conclusion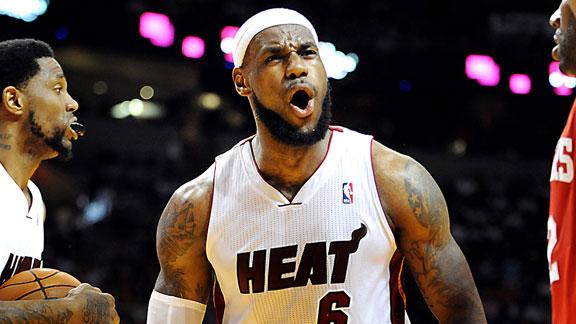 Agree/disagree with my picks? Who are your award-winners? Drop your opinions in the comment section below. Thanks for reading!
Share This:
discussion by

Sidelines
You May Also Like